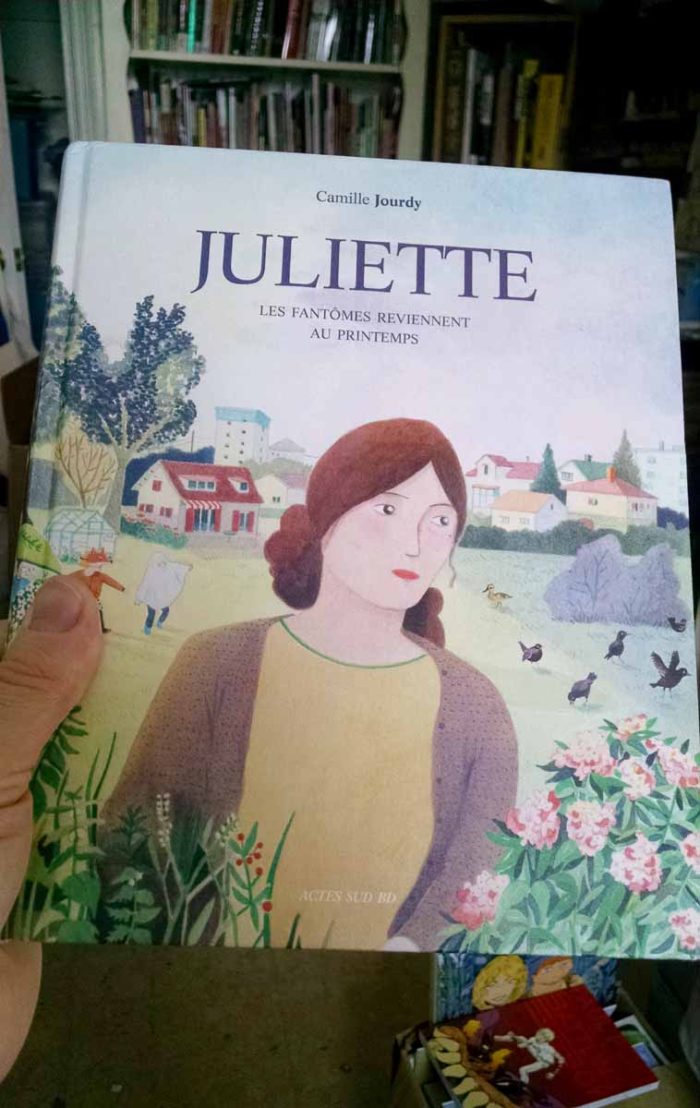 Juliette: les fantômes reviennent au printemps (Juliette: the ghosts return in spring) is a 240-page French graphic novel, published by Actes Sud in 2016.  I don't know much about Camille Jourdy : she's done a lot of children's books, and had a previous series of bd albums, Rosalie Blum, which I guess was successful, since it was adapted as a film as well.
Juliette is a slice-of-life, ensemble/character-based comic; the title character is a young woman who returns from Paris for a visit to her provincial home town, where she confronts family problems and secrets, and has a brief romance as well.   Jourdy's watercolored artwork is lovely, reminding me a bit of Brecht Evans, a bit of Sarah Glidden. The leisurely pace allows for subtle comics storytelling: Jourdy gives her characters plenty of "alone time," breaking down sequences of character interactions into small, precise moments, or focusing on details of the mundane but evocative architecture of the small-city setting.
While the visuals are almost sugary in their prettiness and the tone is gentle, Jourdy's  approach to characters and story has dark depths as well.  Most of the characters are depressed or frustrated with their lives and choices, though over the course of the story they manage to connect and communicate, creating an overall mood of optimistic humanism. Within this gentle atmosphere, there is a good amount of variety: quiet, reflective sequences, slapstick comedy, witty dialogue,  romance and sex,  and a bit of tragedy as well.
 Jourdy particularly excels at large group scenes with competing and overlapping voices: Juliette's extended family dinner party, her mother's art gallery opening, and several scenes at the local bar where her slacker love-interest is a regular.  A pleasant and affecting read, with an easy pace, but full of incident and never dull.  Hopefully this comic will be published in English someday, but in the meantime if you can struggle through the French, it's worth the effort.