Really? I read just four short comics in the entire month of May? Pitiful. Embarassing. Well, maybe posting this disgracefully short list will be a lesson to me — and I'll do better in June!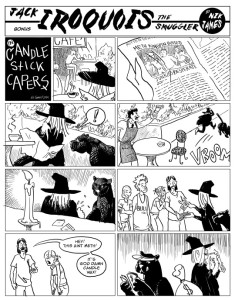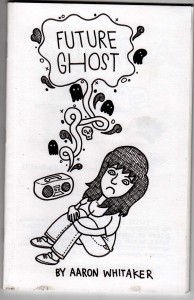 Transfatal Express by Nik James.  Even in the universe of alt-indie comics, this is a very eccentric book.  It's done as a series of 1930s style "Sundays," full pages, telling a pulpy tale of gangsters and molls, cursed jewels, hard-boiled cops, and … whatever.  What makes this so cool and weird is the way James stays true to the spirit of his main model (Roy Crane, as he helpfully points out in a clever "wanted poster" extra), while not slavishly copying a graphic style… the black and white art evokes Crane and other 30s strip artists — but also Ditko — and the "hero" of the comic, Jack Iroquois the smuggler, looks more like he wandered in out of a Leiji Matsumoto western.  Anyway, the whole thing is strange, fun and beautiful to look at.
Future Ghost by Aaron Whitaker.  A 36 page mini from 2009; I don't know how it ended up in my pile, being out of print, but glad it did.  A sad and funny story, very cleverly structured, about a young woman who house-sits a home with a ghostly presence. The way this comic works is very "medium-specific," in its handling of time, of an invisible, inauduble character, and simultaneous dialogue.  Read it (if you can find a copy — its sold out, but i'll lend you mine if you promise to give it back) and try to imagine it in cinematic or prose terms — wouldn't work anywhere near the same.   The artist had some thoughts on this matter as well.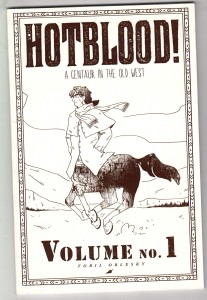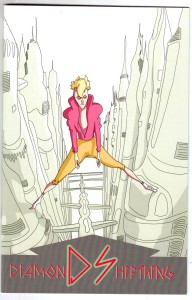 Hotblood! by Toril Orlesky. A pick-up from MICE 2014 (yes, that's how behind I am in my reading), and a nice surprise. A western set in a slightly alternate reality in which centaurs and humans live side-by-side. This is a print version of a webcomic, and not being much in that world I don't know how widely read it is. But as a book it's quite good. The drawing has a loose rendering style but solid underpinnings, and Orlesky's feel for the genre, characters and dialogue seems strong as well. She also lays out a well-conceived fantasy world, describing the culture and geographic distribution of the centaur minority.
Diamond Shifting by Murray Huber III. A short first chapter of a science fiction story. Disaffected youth of the future, hanging around in the ruins of a 20th century city for laughs, then heading back to the gleaming towers far above. I really like the super-fine line drawing and unusual color sense; no clue where the story is headed, but it has a nice sci-fi slice-of-life feel. Acquired at MECAF 2015, where it made its debut.