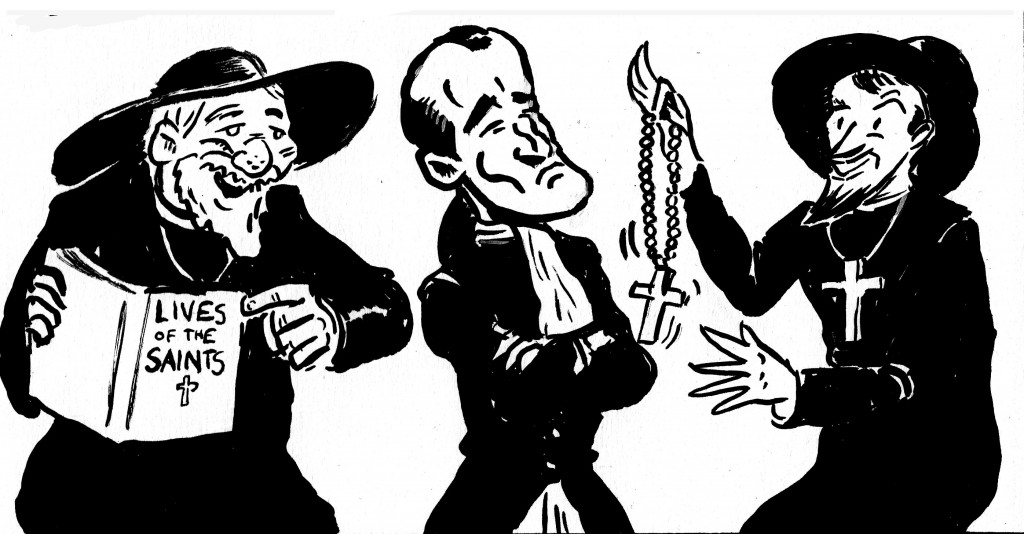 Script for page 4:
PAGE 4
I begged of God, to over-rule, in his providence, that the corpse of one so dear to me, and of one whose spirit he had taken to dwell with him in glory, might meet with a Christian burial, and not be left for meat to the fowls of the air, and beasts of the earth : A mercy that God graciously vouchsafed to grant: For God put it into the hearts of my neighbours to come out as far as she lay, to take up her corpse, recarry it to the town, and decently to bury it, soon after.
"The next day we were made to scatter one from another into smaller companies; and one of my children carried away with Indians belonging to the eastern parts."
John sees Eunice led away in a different direction.
Eunice is brought to the Christian Mohawk village of Kahnawake.
John to Quebec, to live among the Jesuits. 
This is where I started to re-define what John would look like, and I did it in the name of comedy — there is only one portrait of John Williams (that  I could find online):
…but I don't know; not much to work with there.   I wanted to have something visual going on in these "expository" panels  — some counterpoint to the text, and I went for the laugh, caricaturing John a bit as an uptight bluestocking in the same nose-in-the-air posture whether offered a glass of wine or conversion to Catholicism.  So I exaggerated nose, chin, forehead for that effect.  And he probably wouldn't have brought his wig along for the long march to Quebec, so I was happy not to have to deal with that!
Rough page 4:
As much as I liked drawing poor Eunice Williams senior's beautiful tombstone…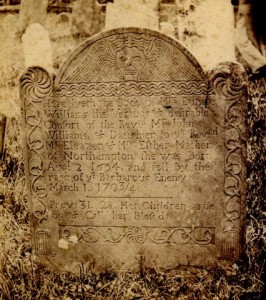 …it seemed to me that stepping out of the forward movement of the story at that point wasn't working. Â Eliminating that panel made it possible to add another beat, showing how John ends up with the Governeur. Â  The final line art:
Did I say "final?" Â HA!
When I got to page 5 I realized that I had to introduce an important character in the last panel, or she'd appear from nowhere. Â  Another thanks to the lightbox! Â I sketched this figure grouping:
And dropped them into the red-drawn panel 5. Â So… MAYBE now it's final:
Hopefully they're noticeable enough to set-up the middle woman's actions in the next page. Â You'll see! Â At least… you can see if you want to. Â Next time.
By the way, a great source of visual reference for this is Bruce Beresford's film of Brian Moore's "Black Robe." Â I highly recommend the film!
Merci beaucoup for looking!